Features
The My Honor Society™ management system includes everything you need to manage your honor society from one easy-to-use web application. Take a look at some of our key features:
Dashboard
When you initially login, the Dashboard displays activity that requires action or attention.
Notifications alert you of important changes.
Closed Invitations displays invitation groups that are no longer open.
Open Invitations displays invitation groups that are currently accepting registrations.
Supply and Order requests awaiting fulfillment.
Chapter sponsors have a similar dashboard showing information pertinent to their chapters.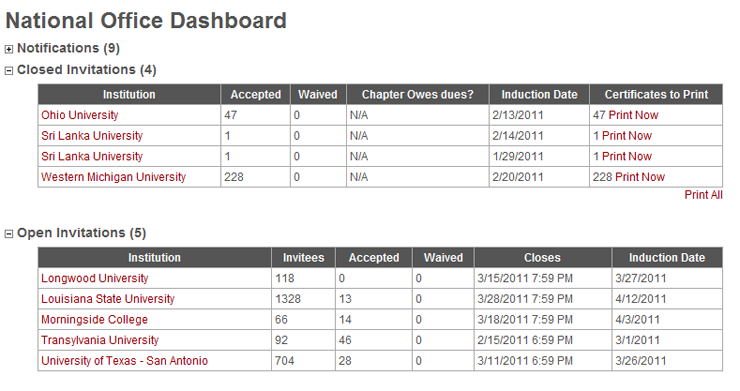 Member Management
A clean interface allows you to keep the most important information about your members up-to-date. You can edit contact information, track awards and scholarships granted, track payment and donation history. Members can update their own contact information in the member portal, so you no longer have to worry about change of address and phone number paperwork.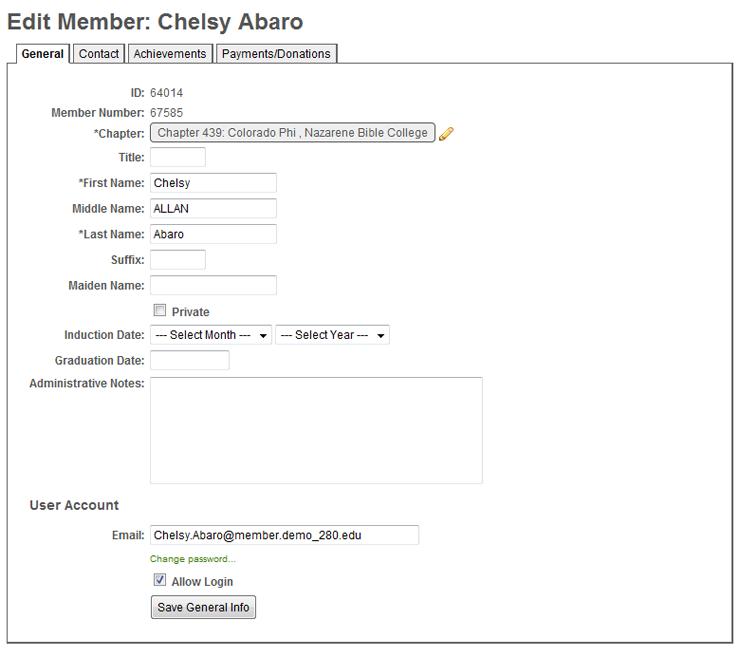 Sponsor Management
Keep sponsor contact information up-to-date. Sponsors can also update their own contact information. The notification system alerts you of any significant changes.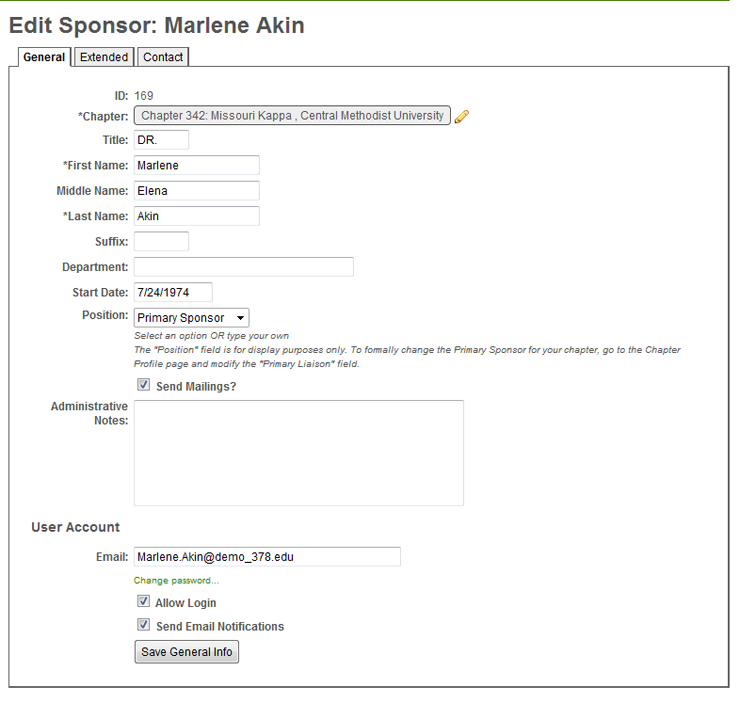 Chapter Management
Editing information about a chapter is easy. You can edit contact information, track chapter history, and much more. Sponsors can also update some information about the chapter. The notification system alerts you of any significant changes.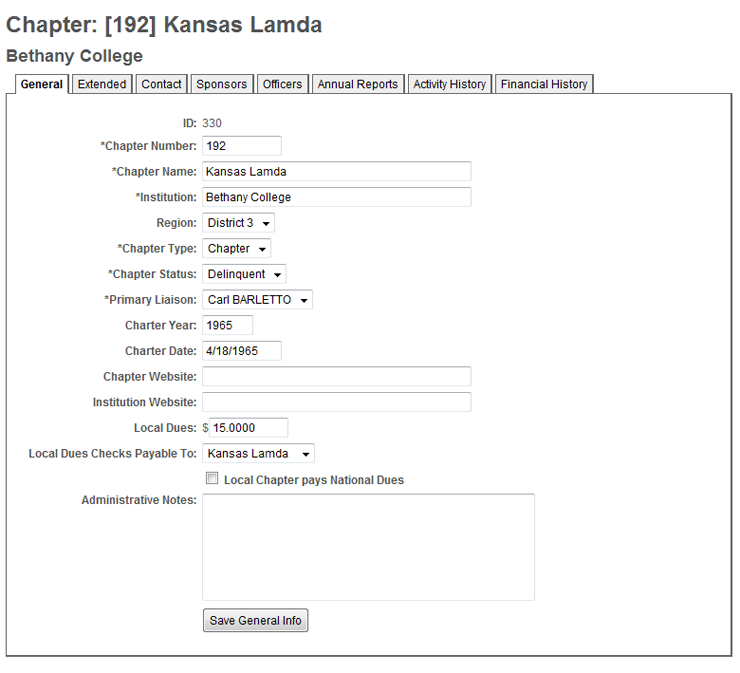 Keep Your Branding
You can change system colors to match your society.

Use Your Logos
And you can upload your society's logo to be displayed on every page.

Customizable Email Templates
Customize the template the system uses to email invitations and other messages to ensure your branding is consistent.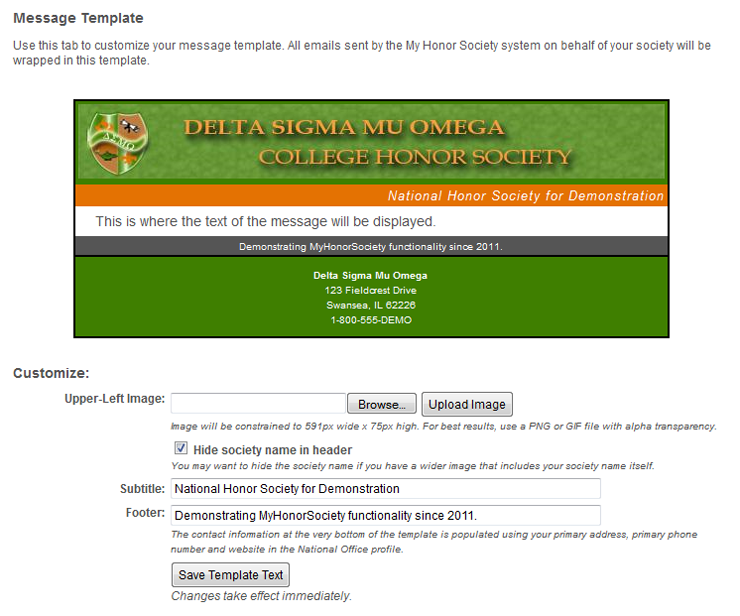 Personalize Welcome Messages
When you add a new sponsor or when a new member joins your society, you can add your own personal message.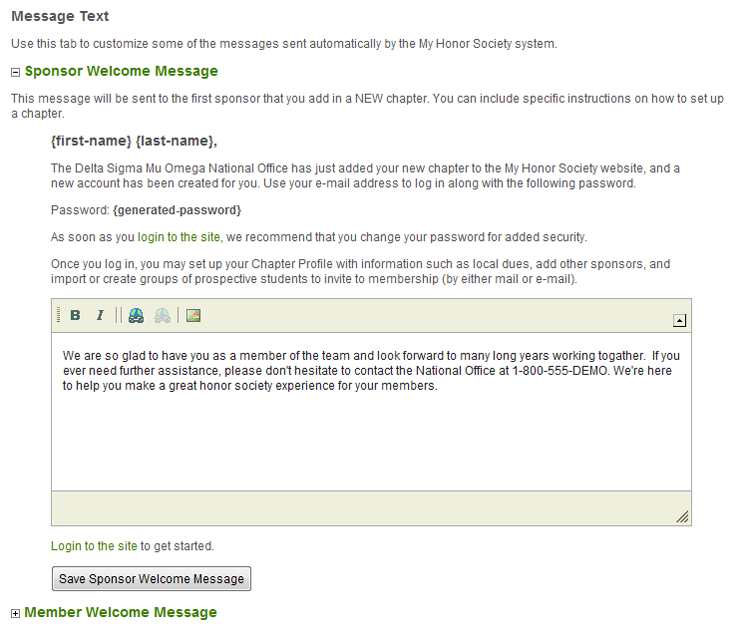 Support for Your Payment Gateway
Just enter your gateway information and you are ready to go. Don't see your payment gateway listed? Just let us know and we will build in support for it.

Customize Your Operating Practices
The My Honor Society™ Management System can enforce your late acceptance policies. You can set extra fees for late acceptance or express processing.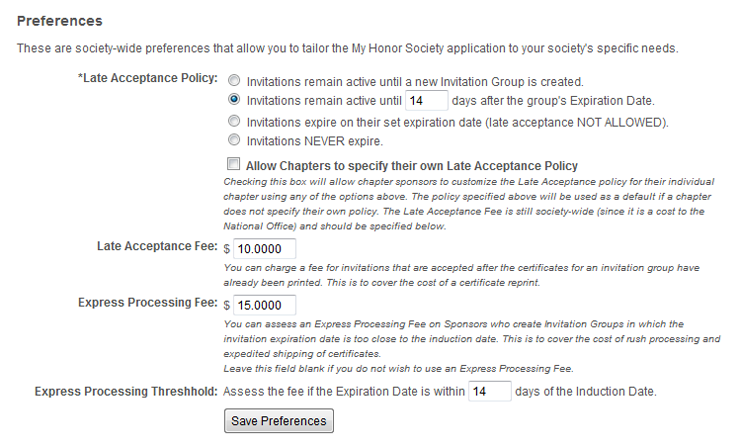 Supplies Available Online
You can manage a small inventory of supplies that chapter sponsors or members can order and supply shipping options.
This will not replace your current merchandise fulfillment solution; rather, just enhance your internal supply fulfillment.


Use Your Terminology
You can choose the terminology for data fields that you want to use. Customizable terminology for:
Address Types
Phone Types
Regions
Chapter Types
Chapter Statuses
Sponsor Positions
Regional Officers
Local Officers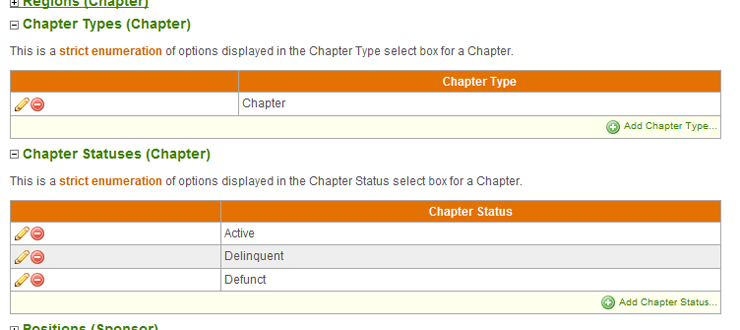 Add Fields that You Need
Extended fields allow you to store extra information associated with Chapters, Sponsors or Members that is not covered by the My Honor Society core fields.
You can include these extended fields on reports and filter on them. You can also control who is allowed to view or edit the data.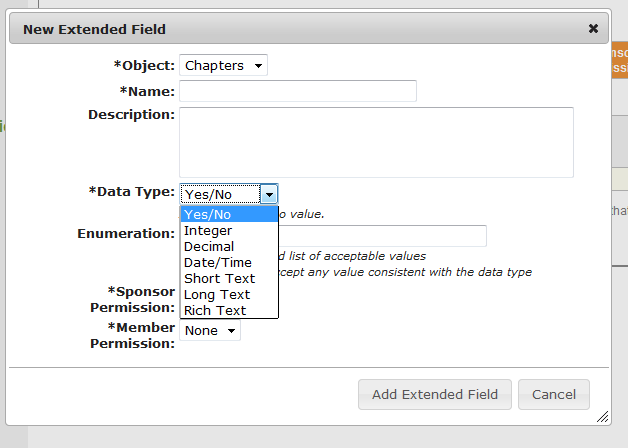 Pre-Built Reports
The system includes over 20 pre-built reports that allow you to access your data.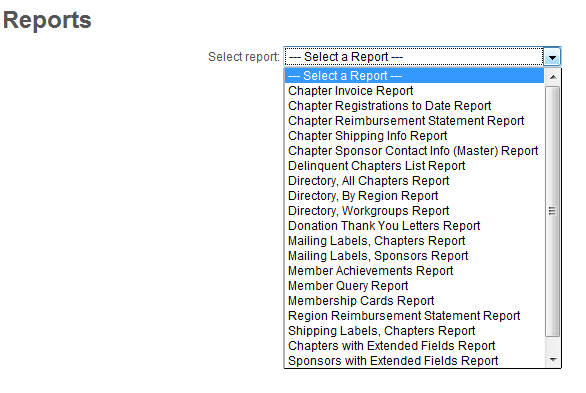 Powerful Filtering of Reports
Reports can be filtered just about anyway you would like. The system provides a wide variety of operators that you can use to filter your data as you have need.
Once you have your data filtered a specific way, you can save the view for re-use.



Build Custom Lists, Committees and Groups
You can group administrators, sponsors and members together to create custom lists for mailings and emailing.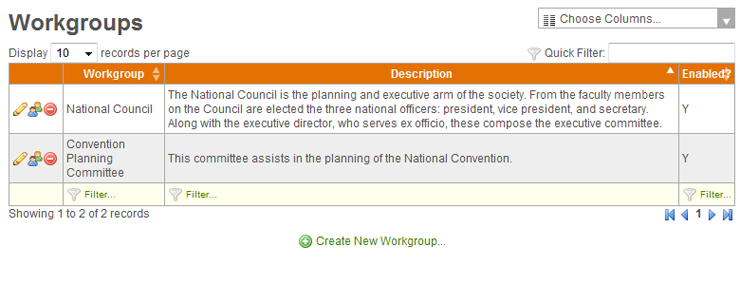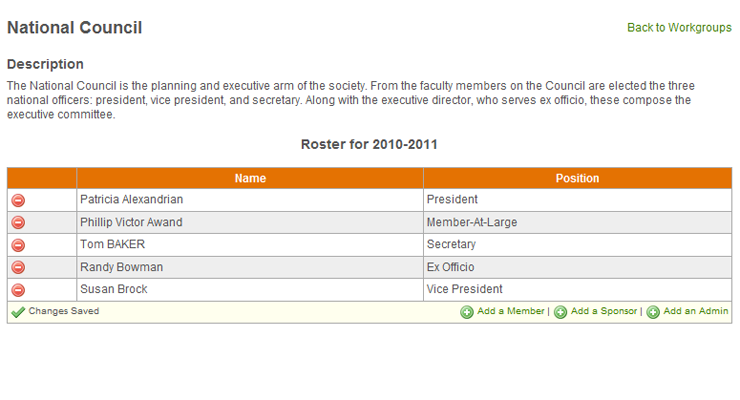 Message Personalization
Using mail merge like functionality allows you to personalize the email messages you do send to prospective or accepting members.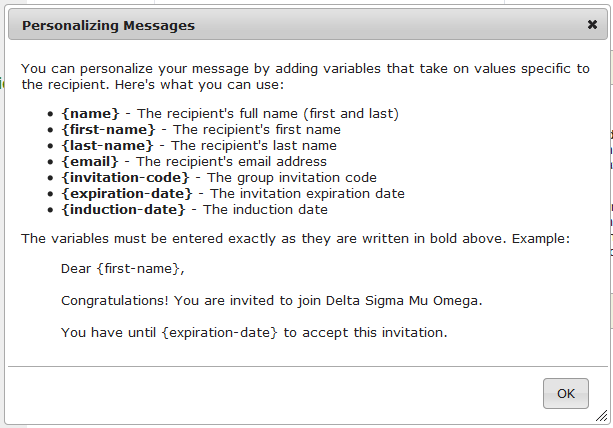 Message Templates
Message templates allow you to provide sample invitation and welcome emails for your chapter sponsors and allow for a chapter sponsor to reuse a message every year.
Member Portal
Members can access services in the member portal. Members can:
Print verification letters
Order certificate reprints
Make donations
Keep contact information up-to-date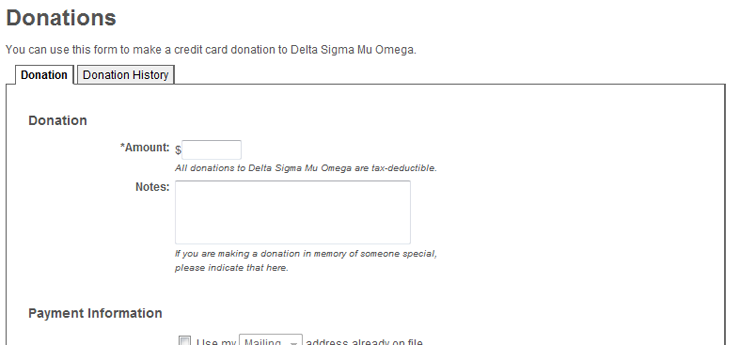 Invitation Groups
Sponsors create invitation groups to manage the induction process.
Set expiration and induction date
Customize email invitation or use template
Customize welcome message or use template
Personalization of invitation and welcome message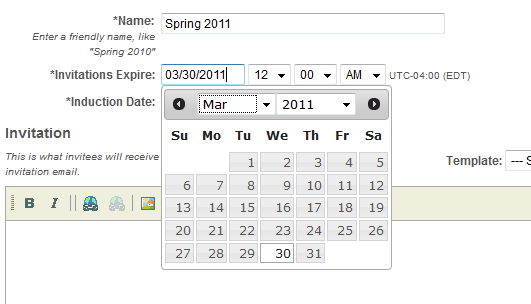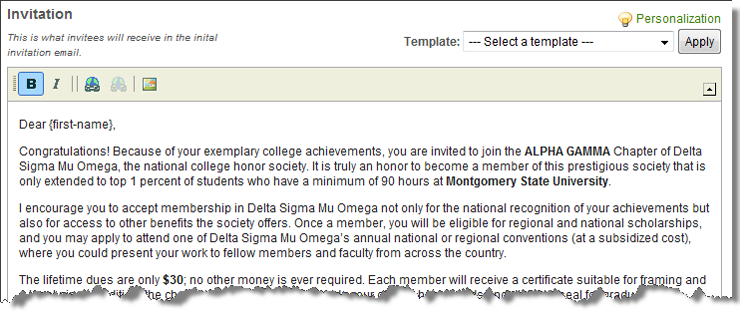 Add Invitees to Invitation Group
Invitees can either be added through a data entry screen or can be imported from a file. Super easy importing from:
Microsoft® Excel (1997-2010)
Delimited text files
Fixed-width text files

Send Email Invitations
Once the invitees have been added to the invitation group, the sponsor can preview and send the invitation via email.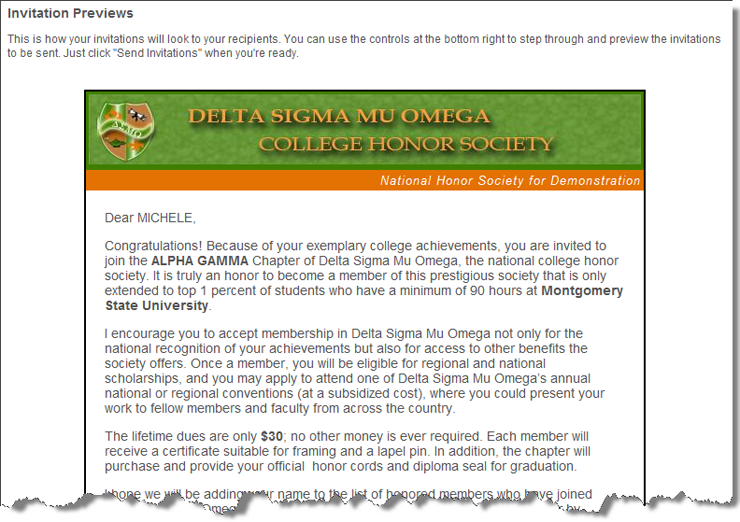 Email Reminders or Changes
The system allows you to send "ad-hoc" emails to different categories of an invitee group:
All invitees
Only invitees who have accepted the invitation
Only invitees who have not accepted the invitation
Remind invitees of an approaching acceptance deadline or communicate venue changes to those that have accepted.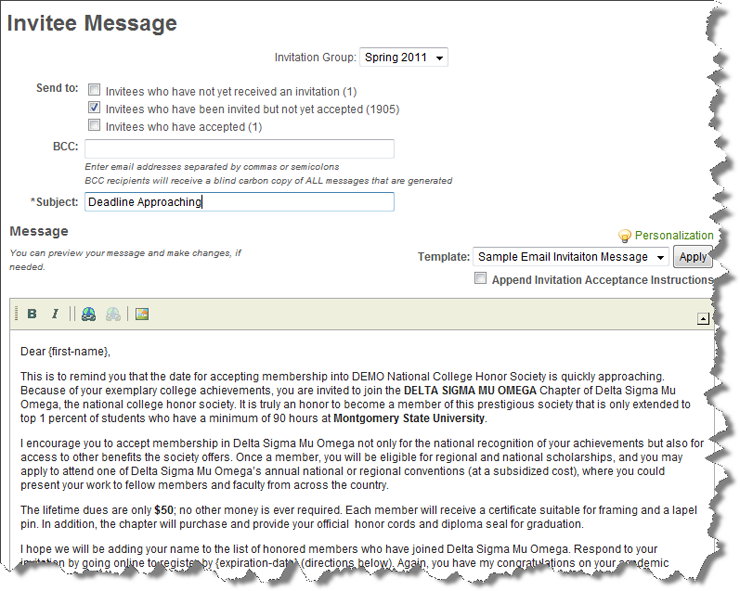 Process to Waive Dues
A sponsor may opt to waive or "scholarship" the dues for a student to whom the dues present a financial hardship. A student may need to bypass the online payment section to pay his or her dues with cash, personal check, or money order.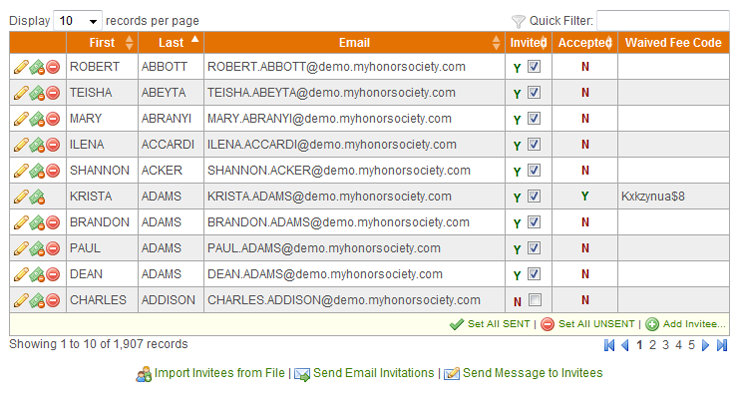 Acceptance Process (Step 1)
The student clicks the link in the invitation email and enters his/her email address and invitation code.

Acceptance Process (Step 2)
The student enters in basic contact information, with support for both domestic and international addresses.
No data entry for the National Office or Sponsor because the student has already done it!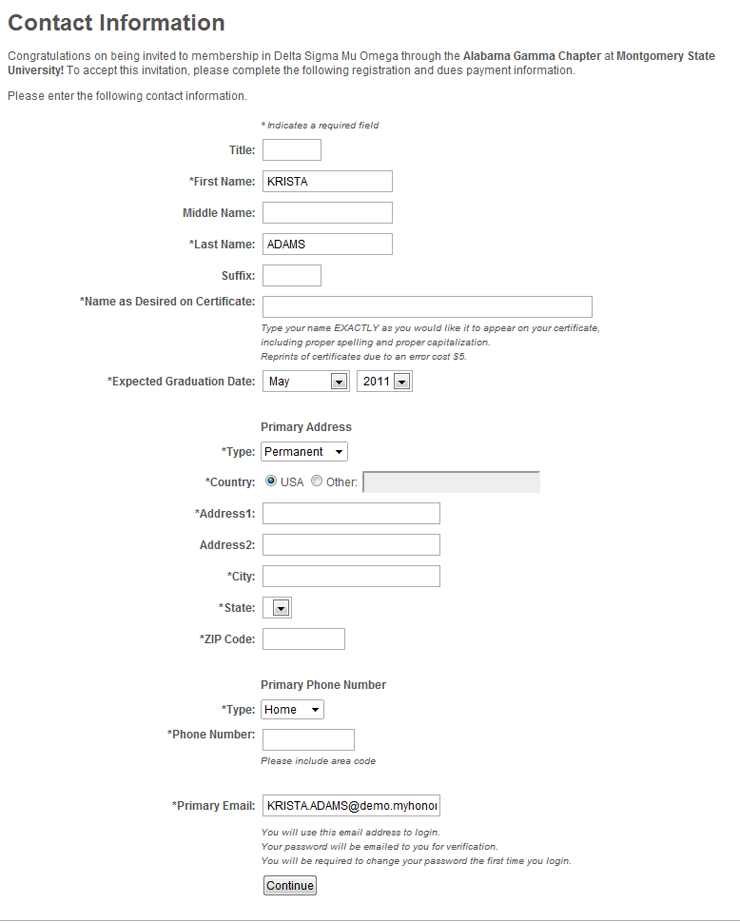 Acceptance Process (Step 3)
The student enters his/her payment information or a waived dues code (if provided by the sponsor) to bypass payment.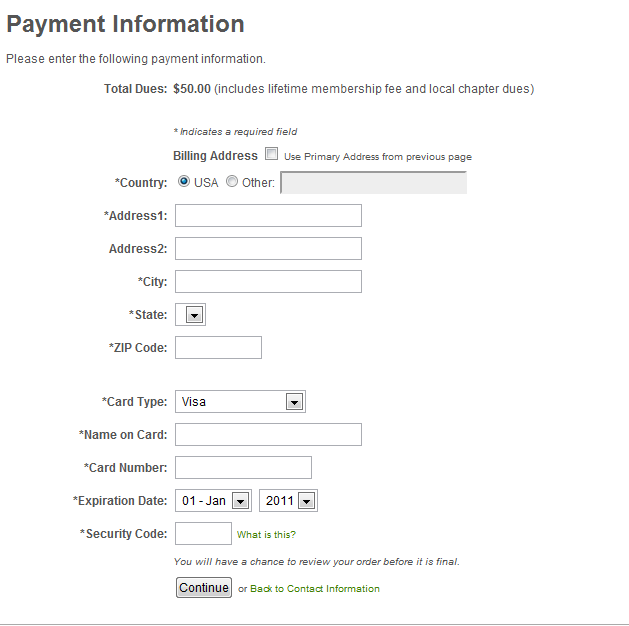 Acceptance Process (Step 4)
A quick confirmation allows the student to review his/her information prior to submission. After completing the process, the student receives his/her new password with the sponsor's custom welcome message and a receipt for payment via email.